Société Générale Algérie wanted to ensure that project planning and resource requirement assessment optimized resource utilization and portfolio management in order to consistently produce quality deliverables. By consolidating all project data and operations into clear and easy-to-read visualizations, Sciforma provides objective overviews of planning and tracking activities.
Société Générale Algérie has recorded improvement in resource utilization and a reduction in time spent on data processing.
Sciforma also made it possible for Société Générale Algérie to engage in budget-driven project management. In addition to tighter PPM cost control, this has empowered project managers to understand the value of their work on projects and to truly own their role as key players in project management.
"Having a structured approach and a sound planning process for tasks, deadlines, budgets, and work assignments is the only way to gain an accurate and objective understanding of our ability to take on and deliver projects of outstanding quality."
Karim BOUKTACHE, Project Portfolio Manager, Société Générale Algérie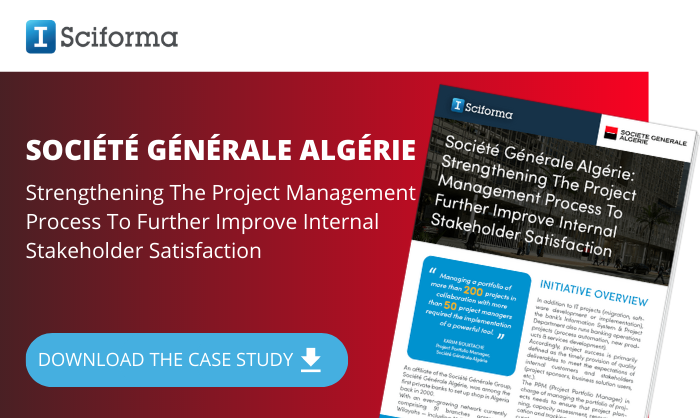 About Sciforma
Sciforma is one of the leading providers of Portfolio & Project Management (PPM) software, delivering solutions to more than a quarter million users worldwide for over 30 years. Boasting PPM, SPM, and CWM capabilities, Sciforma's solution helps teams plan and deliver on strategic initiatives by making data-driven decisions about their project portfolios, resources, and strategic goals—all in one collaborative, customizable platform.
The company stands out from its competitors by providing the optimal balance of usability and robust functionality, as well as project team and executive-level portfolio management for solving challenges with strategic communication, planning, tracking, execution, and more. In recent years, Sciforma merged with One2Team (2021) and KeyedIn (2023), thereby reinforcing its Project Portfolio Management and Strategic Portfolio Management (SPM) capabilities.
For more information, visit sciforma.com. Follow us on LinkedIn.
About Société Générale Algérie
Société Générale Algérie, 100% owned by the Société Générale Group, is one of the very first private banks to set up in Algeria, since 2000. Its constantly expanding network includes 104 branches spread over 33 Wilayas, including 13 Business Centers dedicated to business clientele.
Société Générale Algérie offers a diversified and innovative range of banking services to more than 260,000 Individual, Professional, and Business customers. The bank has more than 1,500 employees.
Find out more about the Société Générale Group at https://www.societegenerale.com/fr.
For more information on PPM software, we recommend: