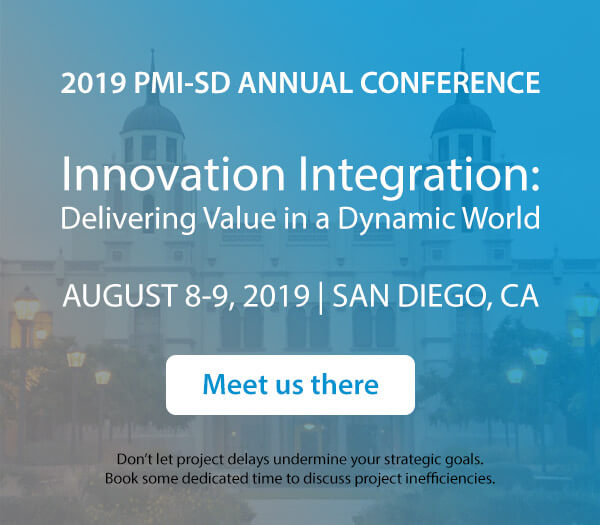 Sciforma Project and Portfolio Management Software is proud to sponsor and present at this year's PMI San Diego Conference. We are looking forward to 2 days at the University of San Diego to meet the local project management community and leaders.
2019 PMI Conference Theme
This year's conference theme surrounds: Innovation Integration, Delivering Value in a Dynamic World. Knowing that project managers need to continuously be ready for change, the PMI San Diego Conference is ready to connect PMI members, cultures, and community. And we can't wait to be a part of it!
The Sciforma team is prepared to be there to learn, share insights, and be a part of the San Diego PM community and even present on digitizing Project and Portfolio Management (PPM) practices.
Key Sessions for Project Managers on the Agenda
With 2 days of a jam-packed schedule to inspire, we've narrowed down some key sessions not to miss:
Invention + Integration = Innovation: the Secret of FANG's (Facebook, Amazon, Netflix, Google) Success and BBEN's (Blackberry, Blockbuster, Ericson, Nokia) Failure – Jimmy Thai
Diversity and Innovation as a Competitive Advantage – Kimberly Wiefling
PMO Field of Dreams: Integrated Teams, Technology and Training – Linda Paulson
Innovation Integration: Delivering Value through Dual Role of Business Analyst and Project Manager – Greta Blash
Sciforma Presenting: How Improving and Modernizing PMO Processes Can Better Align Projects with Strategic Success and Innovation
We are happy to join a dynamic presentation agenda to present on topics that will help project managers in 2 sessions:
Day 1: 9:30 AM in the Rotunda: Reducing Project Cycle Time by Focusing on Resource Management
Day 2: 9:30 AM in the Rotunda: Project Prioritization & the Danger of Working on the Wrong Projects
We will touch on centralizing project data, getting visibility on project resources, statuses, issues, and more within a Project Management Office in order to focus more time on strategy.
Don't miss us at the Rotunda Exhibit area
Come by the Sciforma table to learn more about how we can help. We're excited to meet project management leaders, PMOs, and project managers. Discover how Sciforma Project and Portfolio Management Software can help you achieve more successful innovation. Want to book some dedicated time with our team? Let us know here.