Gartner PPM Summit: A Business Conference for Project Portfolio Management Leaders
Three weeks ago, Gartner hosted their annual Program and Portfolio Management Summit in Washington DC. Each year, this event brings forth many project management leaders to discuss current trends, research, workshops, and much more.
Keeping up with Digital Transformation, Rapidly Transform PPM
With more than 1500 attendees and over 100 research-driven sessions, this year's 3-day Gartner summit was full of presentations about keeping up with digital disruption and how it's transforming the way we all do business. Most importantly: what to do next in your own organization.
Gartner Conference Sessions and Workshops on Current PPM Trends
Sessions were divided into four main tracks that would help attendees transform their current PPM practices and stay relevant by navigating the constant changes in all industries. These tracks were: Rapid Change, Cultural Change, Business Partnership, and Innovation. Among these tracks, popular topics such as enterprise agility, product management, bimodal, decision making, and change management were in this year's agenda.
FAQs about Project Portfolio Management Software
In the exhibit hall and dessert reception, Sciforma Project and Portfolio Management Software's booth got many visitors, ready to discuss their project management challenges and the next steps to applying some of their ideas from the sessions:
How can I centralize my project data into one system to select the right, strategy-aligned projects?
How can I score my projects to select the right ones to work on?
How does Sciforma help me mature my traditional PPM functions to support more innovative portfolio management?
How can get a global view of my projects' statuses, resources, and planning?
How would I be able to report on costs, budget, and spend of projects?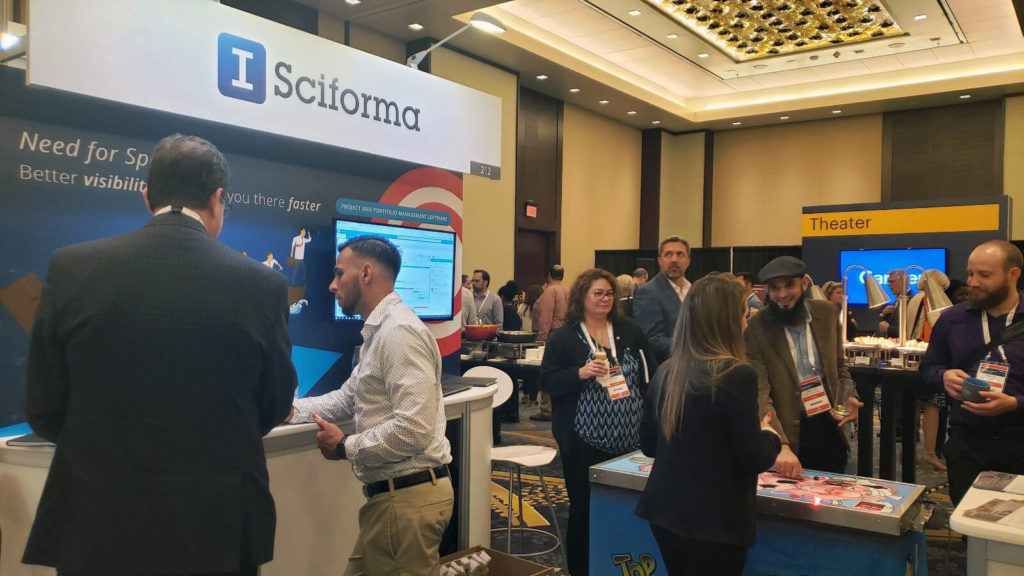 The Project Management Office Driving Change Through Projects
Now weeks after the Gartner PPM Summit, we see that these same project leaders gained actionable insights into how to keep up with the continuous change, and how project management (or the Project Management Office – PMO) is the key to driving more value and change within each organization.