This year, the Project Management Institute organized its Global Summit in Las Vegas. For three days, PM leaders can discover and discuss the actual and future trends of PPM (project portfolio management) and meet other project professionals. Let's build a stronger future for you, your work, and your world!
Meet our team of experts at PMI Global Summit Booth #428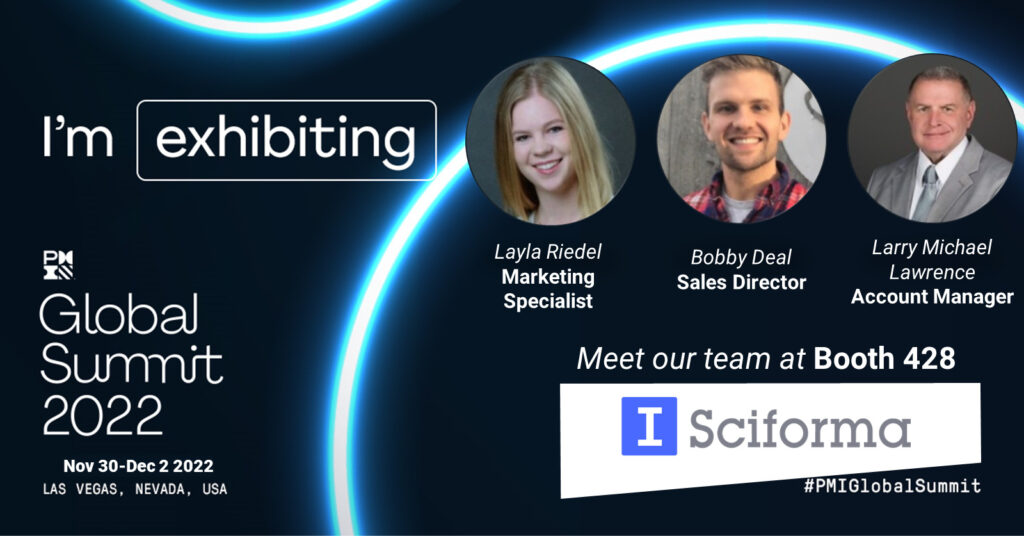 Our team members Layla, Bobby, and Mike will attend the event and present our new platform Vantage, as well as Plan and Deliver. You can book a meeting with them to request a live demo of our PPM solutions!
To join the event and book a meeting:
Not available for the live event? No problem. Book an online meeting with our team to discover the platform and our new functionalities.






About Sciforma, PPM Leader
Sciforma is one of the leading providers of Portfolio & Project Management (PPM) software, delivering solutions to more than a quarter million users worldwide for over 30 years. Boasting PPM, SPM, and CWM capabilities, Sciforma's solution helps teams plan and deliver on strategic initiatives by making data-driven decisions about their project portfolios, resources, and strategic goals—all in one collaborative, customizable platform. The company stands out from its competitors by providing the optimal balance of usability and robust functionality, as well as project team and executive-level portfolio management for solving challenges with strategic communication, planning, tracking, execution, and more. In recent years, Sciforma merged with One2Team (2021) and KeyedIn (2023), thereby reinforcing its Project Portfolio Management and Strategic Portfolio Management (SPM) capabilities. For more information, visit: www.sciforma.com. Follow us on LinkedIn.