SNCF Réseau had embarked on a major overhaul of its project management ecosystem in order to improve process consistency with a focus on data quality and project planning. The company leveraged Sciforma to optimize the management of project portfolios and accelerate digital transformation.
The solution demonstrated its ease of use, its responsiveness, and its overall value to SNCF Réseau's operational staff. Users began to realize the importance of planning in Sciforma — even though planning and scheduling weren't rooted in the company's culture — and the number of plans SNCF Réseau produced in Sciforma increased by 40% in 3 years.
The improvement in cross-team collaboration and the new ability to work on the basis of common standards and consistent information have greatly increased work performance. Overall, SNCF Réseau has recorded a 30% reduction in time spent on project administration tasks! That time is now used to discuss problem areas.
"The reports and summaries produced by Sciforma also offer the advantage of providing quick and reliable access to data, which is key to respond and adapt quickly to market changes or new directions."
Olivier DEBIEUVRE – Project Planning Manager, SNCF Réseau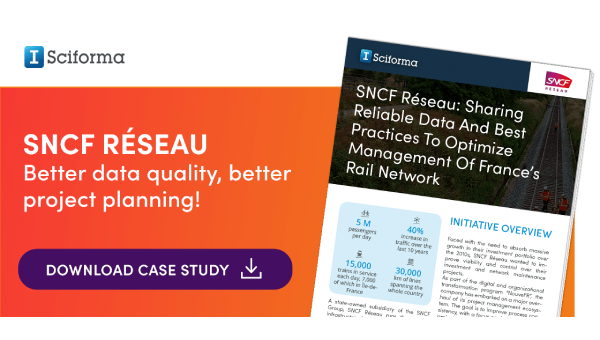 About Sciforma
Sciforma is an adaptive enterprise PMO software solution, with over 30 years of experience serving thousands of mid- to large-size organizations across 20 countries.
With capabilities in managing, reporting, and executing on strategic initiatives, Sciforma's enterprise-wide solution helps ePMOs, executives, and functional work teams improve strategy and program execution, ensure visibility and accountability on business priorities, and optimize resource utilization across portfolios. The company stands out from its competitors by providing the optimal balance of usability and robust functionality for solving challenges with strategic communication, planning, tracking, execution, and more.
For more information on PPM software, we recommend: