You have worked hard to establish your PMO as a vital entity with business stakeholders and your customers – the project management community. But, you can't rest on your laurels. You need to keep evolving and maturing. You need to remain dynamic and cutting edging. That's your PMO brand.
Here are some warning signs you are slipping into bad habits or not keeping up with the times. The result you are trying to avoid is erosion of your authority and perceived business value.
1. You are not focused enough on "Next Practices"
Companies rightly leverage institutional and industry learnings that have been acknowledged and generally accepted as best practices. But, the role best practices will have diminishing applicability moving forward. This is because best practices are about what has worked in the past and applying it to the present. The accelerating speed of business change and disruption is causing companies to think harder about what will work now and into a future that is increasingly less foreseeable. Business models are being fundamentally redefined by an alchemy of technologies including Cloud, AI, IoT, blockchain, and DevOps.
Because best practices for the development, delivery, and operationalization of these technologies have not had time to emerge, the term Next Practices has surfaced to fill this gap. For now, just think of this as code for "what culture, skills, and competencies do we need to have in place in order to harness and leverage the power of these disruptive technologies?" While best practices are driven by experience (reflecting on the past), next practices will necessarily be driven by anticipation (predicting the future).
2. You are starting to take your business alliances for granted
It is critical that PMO leadership continues to spend time with business sponsors and champion and continue to cultivate that relationship. Does your steering committee still have active participation from designated C-level and line of business executives? Is there an unambiguous business sponsor or champion assigned to all the large, complex and transformational projects? Make it a regular priority to sit down proactively with your business allies to understand strategic priorities moving forward rather than reporting out on what happened looking backward. Have an on-going discussion about the role of disruptive technologies, digitalization and business transformation initiatives.
3. You are not driving strategy execution for PMO
PMOs are most valuable when they are driving business strategy execution. That is, programs and projects are executed to implement a business priority or objective (e.g. support a new strategic service, deliver a new product, implement a transformational initiative, digitalize a mission-critical process). This "top-down" work needs to be ruthlessly prioritized over project demand that is justified in part by "bottom-up" strategy alignment. Just because a project can be aligned with a key business strategy doesn't mean it provides value. In fact, sometimes frivolous connections between project proposals and business strategies are made to justify pet projects. On the other hand, projects that are ideated out of the necessity to deliver on a strategic objective are by definition business critical. If the preponderance of your portfolio is trending more and more towards strategy execution work (versus strategy aligned work), you will continue to build long-term PMO brand value.
4. You have the wrong attitude about disruption
The interrupt driven world is the new normal. If you find your organization has slipped back into being frustrated with technology disruption and constantly shifting business priorities, it's time for an attitude adjustment and some potential retooling of your people, processes, and technologies. The goal is reestablishing agility and flexibility. This is the only truly durable competitive advantage. Whoever is nimbler and adapts faster to opportunity or responds quick to threats will survive and thrive. Is disruption viewed as a threat or an opportunity? Make the necessary adjustments in your environment to make sure change is welcome and fuel for differentiation and not indigestion.
5. You are not evolving your talent pool fast enough
Due to the pace of the aforementioned business change skills, affinities, competencies need to continually refreshed the new realities. This is driven by geopolitical and demographic shifts, climate change, mergers, financial and regulatory circumstances, and a host of other factors in addition to disruptive technologies. Traditional project management skills, while not quite a commodity, are less important than units of work or investment defined in terms of initiatives, programs and portfolios. This includes business management and strategic thinking to deal increasingly with executive level stakeholders and metrics; collaboration and leadership to drive change and transformation within the project organizations and across the business; expertise in emerging technologies like advanced analytics, AI, IoT, and blockchain. Audit your portfolio and put a plan in place to fill gaps proactively.
Your PMO is essential to position your company towards the future
The days when a great track record of on-time, on-budget and within scope was your primary concern are over. Now that's table stakes. The PMO is the engine or corporate change and corporate change is your lifeblood.
Do you want to empower your PMO? Check our latest ebook on :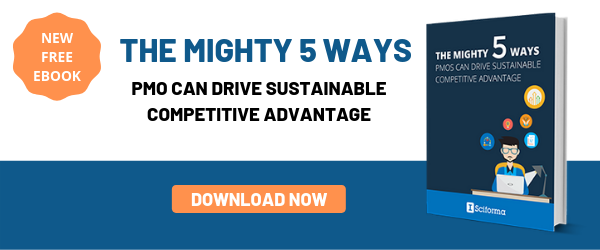 Looking for a complete PPM tool? Download our PPM implementation guide and find the tool that's right for you!